On June 11, 2011, the Hainan Jiangling Motors Haikou Light Truck franchise store was grandly opened. Jiangling franchise store will fully satisfy the needs of customers in the Haikou region and comply with the broader and in-depth development vision of auto companies. Hainan Jiangling's relevant leaders and guests and media have witnessed the opening ceremony of the new store.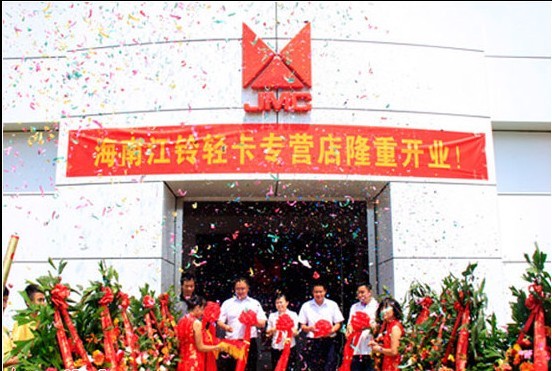 The leaders of Hainan Jiangling Company shared with the guests the history of the rapid development of Jiangling Motors and the confidence and continuous investment in the future Haikou market. Jiangling Kaiwei, Jiangling Kaiyun, Jiangling Kairui, Jiangling Shunda and other light trucks that Jiangling's franchise outlets emit are all equipped with a wide range of models for guests to enjoy at close range, demonstrating high-end corporate image and mellow product accumulation.
Jiangling Motors Co., Ltd. is one of the fastest growing manufacturers in the Chinese automotive industry and one of the largest companies in the commercial vehicle industry. It has been ranked among the top 100 Chinese listed companies for three consecutive years. Jiangling Motors fully satisfies the consumer needs of different customer groups. Transit commercial vehicles, Shunda light trucks, Baodian pickup trucks, Baowei multi-functional off-road vehicles, and Yusheng SUVs are examples of energy-saving, practical and environmentally-friendly automobiles.
Jiangling took the lead in establishing a modern marketing system in the Chinese automobile market and built a strong marketing network throughout the country. High-quality marketing, a sound network and fast and complete customer service have become Jiangling's core competitiveness in the Chinese market and have established the image of Jiangling Motors' well-known brand in the field of commercial vehicles in China.
Hainan Jiangling is the general agent authorized by Jiangling Corporation in the Hainan region. It integrates vehicle sales, parts supply, maintenance services, and information feedback. It is also responsible for all aspects of Jiangling Motors' Hainan regional affairs. Hainan Jiangling Company upholds the customer-centric marketing concept, adopts Ford's globally implemented service 2000 standard model, implements JMC Cares JMC service care system, and dedicate itself to the pursuit of service process quality, value for money, and nuanced service. Fully understand the requirements of each customer, strive to provide the best pre-sales and after-sales service to our customers and enable them to experience the standardization and internationalization of quality services. Hainan Jiangling people are committed to serving customers in Hainan with value, with the ultimate goal of customer satisfaction.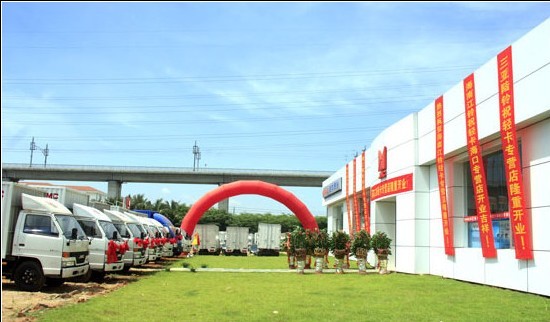 Following the opening of the Ford Transit and Jiangling Yu Sheng 4S stores in Hainan Jiangling Auto, another light truck franchise opened. It symbolizes that the Jiangling light truck users in Haikou have more professional and caring services, and has opened a new prelude for Jiangling in Haikou. It further consolidated Jiangling's position in Haikou's commercial vehicle market and further fulfilled Jiangling's consistent commitment to bring the highest quality products and the most satisfying services to consumers in Haikou, which will surely open a new chapter in the development of Jiangling Motors' brand.
It was also learned that Hainan Jiangling Motors Haikou light truck franchise store opened during the visit, Jiangling Kaiwei to visit the store to have a beautiful gift, and purchase light trucks to send 1000-1500 yuan decoration spree.
We are manufacture in Shenzhen China.
Do you want to own a unique T-shirt?
Do you want to DIY a T-shirt special for your kids, your lover and your family?
Do you want to open a workshop for the T-shirt printing business?
Imagination is unlimited; Gateway can give you a complete solution for customizing your t-shirts.
T shirt printer
are using 5 color eco environmental ink (C,M,Y,K,W). Printing size is 33*60cm,max printing height is 17cm,max resolution is 5760*1440dpi.With our T-shirt printer, you can print any kind of artwork or photos on your own T-shirts, no mater White or Black shirts.
The operation is very simple; You just put the T-shirt on our t shirt jig/adapter.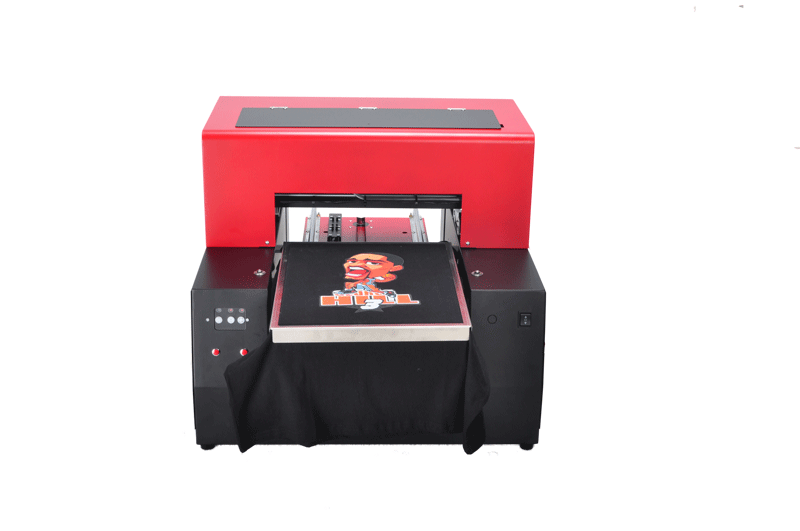 | | |
| --- | --- |
| Name | T shirt printer |
| Print head | DX5 |
| Printer size | 33*43cm(33*60cm) |
| Printing speed | A4 photo/111s |
| Printng resolution | 5760*1440dpi |
| Nozzles | 90*6=540 |
| Interface | USB2.0 |
| Net weight/Gross weight | 55Kg/60Kg |
| Printer size | 750*630*510mm |
| Height adjustment | Automatic |
| Working power | 110V/220V 50/60Hz 30-75W |
| Operation system | Windows 7/XP/2000/Vista etc |
| Temperature | 5-35o |
T Shirt Printer,Digital T Shirt Printer,T Shirt Printing Machine,Black T Shirt Printer,A3 T Shirt Printer
Shenzhen Refinecolor Technology Co., LTD. , https://www.szcakeprinter.com