Painting:
Variety of Coating Solutions
Transport Package:
Standard Seaworthy Packing(Wooden Box/ Nude Pack)
Specification:
According to the actual size
3E MACHINERY's
PC26-PC42 series g

ranulator
is our conventional range of small-medium size granulators. The body of the machine is made of welded by rigid steel structure. Suitable for processing a wide range of materials including: Plastic lump, sheet, plastic film, paper, rubber, tire, metal, etc.
It's
heavy duty, high speed precision granulation machine designed for the rapid size reduction of various types of material in a single pass. The material is cut cleanly between the rotor and stator knives, and cut down to a homogenous regrind size determined by the screen holes on the fitted screen.
Application

Specification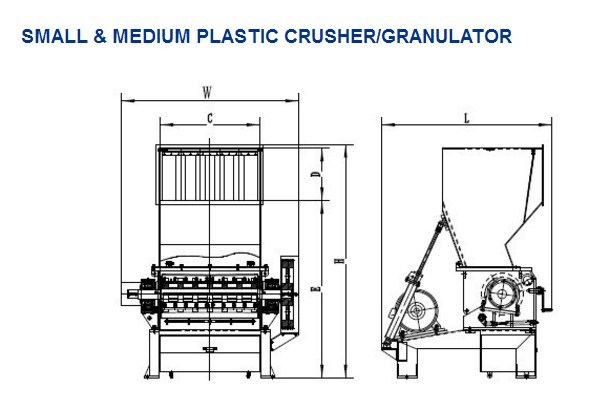 Item                  

 Model

PC2660

PC3260

PC3280

PC4280

PC42100

PC42120

Dimension L/W/H(mm)

1483×1328×1740

1486×1368×1711

1586×1568×1814

1770

×1642

×2425

1770×1842×2425

1760×2221×2530

Cutting Chamber C/D(mm)

634×437

634×475

834×475

834

×540

1034×540

1234×425

Height of discharge port 

E

(mm)

1567

1269

1369

1842

1842

1947

Rotor Diameter (mm)

φ

260

φ320

φ320

φ

420

φ

420

φ

420

Main Shaft Speed (r/min)

584

444

627

466

466

462

Screen Mesh (mm)

φ

8

φ12

φ12

φ

12

φ

12

φ

12

Rotor-knives (pcs)

3×2

3×2

3×2

3×2

3×2

3×2

Stator-knives (pcs)

2×2

1×2

2×2

2×2

2×2

2×2

Main Motor Power (kw)

15

15

22

37

45

75

Weight (kg)

960

1470

1730

2800

3230

3650
 

Features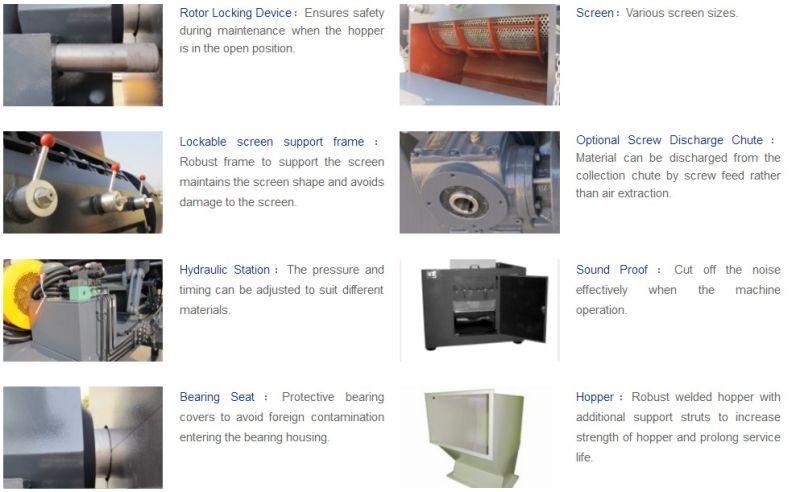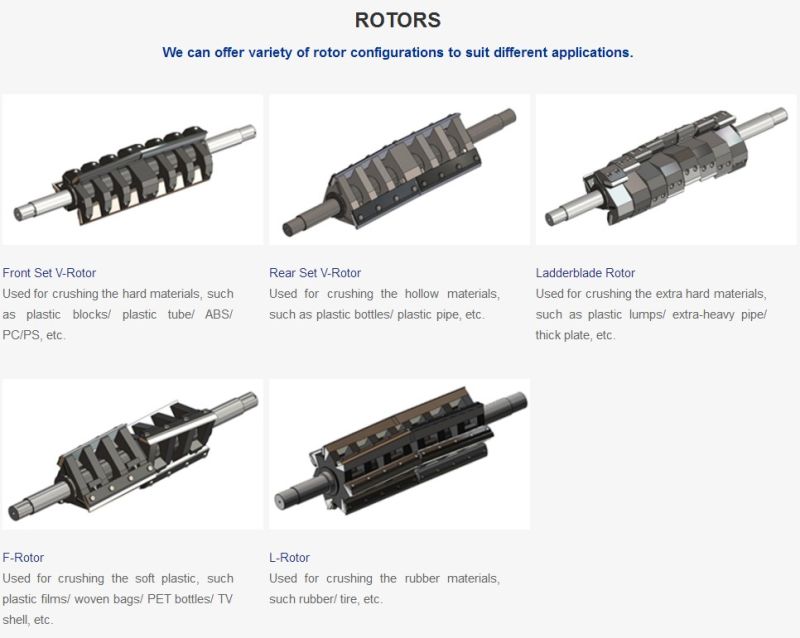 Certification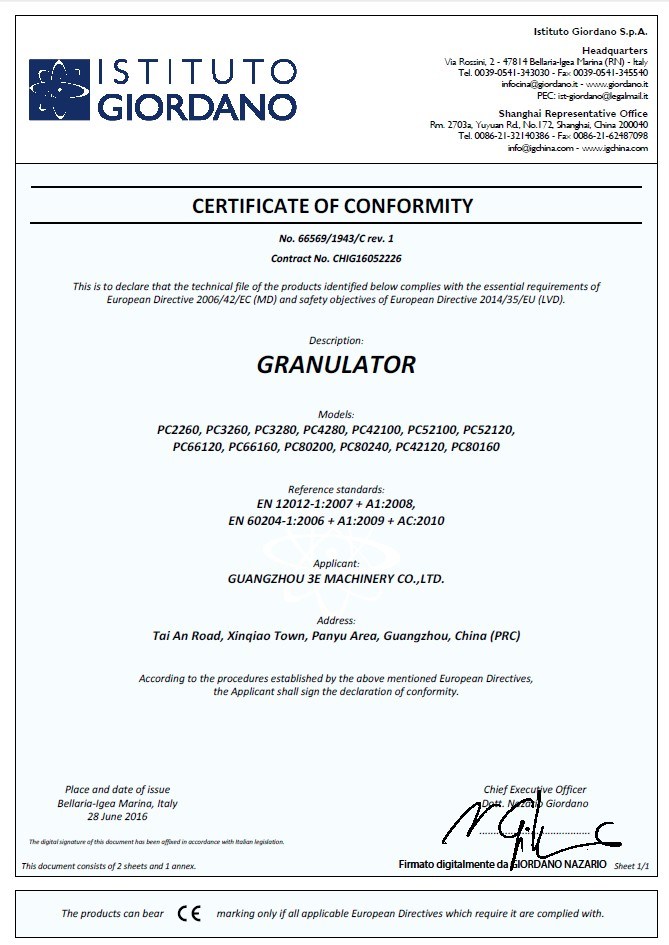 3E MACHINERY

was awarded 18utility model patents and 3 invention patents.
Our service
1.Pre-sale support


  3E Machinery consists of experienced specialists, we will offer a suitable solution according client's requirement in time.
  On-site inspection.


2. After-sale service


  3E's skilled technicians are available to assist with onsite installation, commissioning & training on request. This will enable customers to optimize the performance of their new plant. Customers will be briefed on all aspects relating to operation and maintenance by a 3E technician. Dimensional drawings together with service requirements will be provided prior to delivery of the equipment. This will allow the customer to prepare the site and allow them to commence production in a timely fashion. 
  3E holds a adequately inventory of spare parts and their efficient service personnel will ensure that any required part will be dispatched without delay. Delivery of the spare parts may be by air, sea or courier depending on the urgency of the situation. Customers are encouraged to hold their own critical spare parts such as granulator blades and screens to ensure optimal machine condition and performance.


3. Technical support


  3E provides enough hardware resource especially for large-scale production lines, clients can carry out installation, commissioning and acceptance before delivery.
  Regular return visit.
Company profile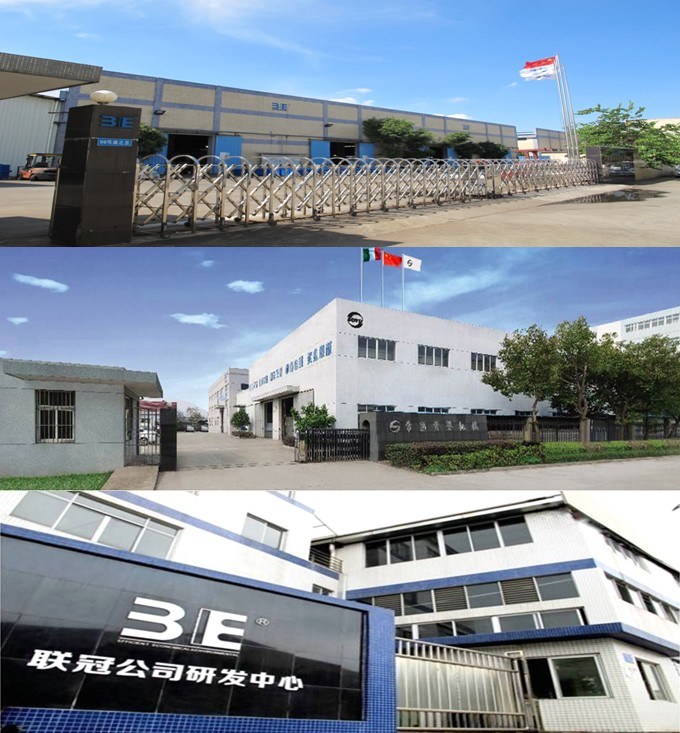 3E GROUP

 is an integrated company specialized in developing, manufacturing, distributing and providing recycling machinery solutions. Our main entity " Guangzhou 3E Machinery CO. Ltd" founded in 2003, has currently become focusing on "Shredding" and "Recycling industry" modern enterprise.
Technology is the core-competitiveness of 3E Group, we are active in the recycling market and keep cooperating with well-known enterprises in Europe and the USA. Meanwhile, 3E Group keeps on improving and innovating, so far, we awarded 18utility model patents and 3 invention patents.
"Efficient Economical & Environmental" is the traditional idea of 3E Group. With its own intellectual property and solid technological team, our products have been already sold to over 90 regions and countries which include the USA, Europe, Australia, Southeast Asia, Latin America, and Middle East.
 
A shaft is a rotating machine element, usually circular in cross section, which is used to transmit power from one part to another, or from a machine which produces power to a machine which absorbs power.[1] The various members such as pulleys and gears are mounted on it.
Transmission shafts are used to transmit power between the source and the machine absorbing power
Spindles are crucial parts for your lawn mower cutting deck that work together with the pulleys and belts to perform clean and even mowing.
Our shaft/ axle/ spindle we made normally applied on the transmissions, lawn mowers, trucks, excavator and other vehicles, etc.
The materials we used are normally mild steel. When high strength is required, an alloy steel such as nickel, nickel-chromium or chromium-vanadium steel is used.
Shafts are generally formed by not rolling and finished to size by cold drawing or turning and grinding.
Some of the spindles are applied forging castings to save costs.
Main of our customers are from USA, CANADA, AUSTRALIA, German and Chinese domestic market.
Spindle Motor,CNC Spindle,Deck Spindle,Stainless Steel Shaft
SHAOXING QIFENG AUTO PARTS CO., LTD. , https://www.sxqfap.com