[ China Instrument Network Instrument Development ] Recently, the Intelligent Institute of Research on the Progress of Heavy Metal Ions in Spectroelectrochemical Detection by Electron Institute of Huang Xingji Research Group Electrochemical spectral methods for trace detection of heavy metals: A review published in Trends in Analytical Chemistry.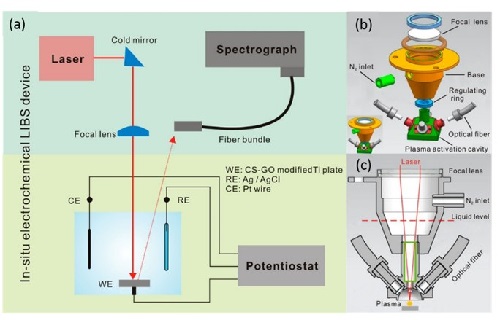 Figure 1. Experimental setup of a micro-zone liquid venting device assisted in situ underwater electrosorption-laser induced breakdown spectroscopy. (a) Schematic diagram of the in situ spectroelectrochemical device; exploded view (b) and sectional view (c) of the micro-zone liquid evacuation device.
Heavy metal ion pollution poses a serious threat to human health and the ecological environment. It is especially important to detect trace and ultra-trace levels of heavy metal ions in pollutants. Single spectral detection methods, such as X-ray fluorescence analysis, laser-induced breakdown spectroscopy, and traditional electrochemical methods, have disadvantages of poor detection limit, sensitivity, and anti-interference ability when faced with complex pollutants with low concentration and unknown composition. .

In recent years, spectroelectrochemical technology has become one of the research hotspots in the field of environmental analysis. This method uses electrodeposition and electrosorption techniques to pretreat the test samples, and then uses spectroscopy to achieve qualitative and quantitative analysis of trace heavy metal ions. The combined technology has the advantages of high sensitivity, low detection limit and strong anti-interference ability. The research team of Huang Xingjiu has made a series of scientific research achievements in the spectroelectrochemical detection of heavy metal ions. For example, the research group used the electrosorption-X-ray fluorescence analysis technology to realize the detection of arsenic ions in the water environment; the anti-interference detection of cadmium ions in rice was realized by the electrodeposition-laser induced breakdown spectroscopy combined technique; In addition, using the electrosorption-laser induced breakdown spectroscopy technique, the group also realized the in-situ detection of chromium ions. The experimental setup is shown in Figure 1.

The published review mainly introduces the main progress and development trend of spectroelectrochemistry in the detection of heavy metal ions. Among them, electrodeposition pretreatment technology is mainly used in combination with atomic absorption spectroscopy, total reflection X-ray fluorescence analysis, X-ray fluorescence analysis and laser induced breakdown spectroscopy. Based on electrostatic adsorption, the newly developed electroadsorption pretreatment technology has also been successfully combined with X-ray fluorescence analysis and laser induced breakdown spectroscopy. It is worth noting that spectroelectrochemical technology can also achieve in-situ monitoring of heavy metal ions.

In addition, this review article presents the key issues and challenges in the current analytical and electrochemical methods for the detection of heavy metal ions. The research team pointed out that the rapid and sensitive detection of trace and ultra-trace heavy metal ions requires: 1) designing electrodes based on nanomaterials, optimizing the experimental conditions of the electrochemical process to shorten the time of the pretreatment process; 2) Combine with spectral techniques and theoretical calculations, such as X-ray absorption fine structure (XAFS) and density functional theory (DFT), to further explore the anti-interference mechanism of electrochemical processes; 3) further design for the convenience of online monitoring of environmental pollutants experimental device.

The research work was supported by the National Natural Science Foundation of China, the Postdoctoral Innovative Talent Support Program, the Major Science and Technology Project of Anhui Province, the Innovation Crossing Team of the Chinese Academy of Sciences, and the Dean of the Hefei Research Institute.

(Original title: Review of the progress of electrochemical spectroelectrochemical detection of heavy metal ions published by Smart)
it is including Loader Bucket Cutting Edge and End Bits ,Wear Roller,wear liner plate,bucket cutting edge,Square Dome Shaped Pipe,bucket loader,clamshell grab bucket cutting edge,wear elbow,wear tube,etc.
wear parts,chromium carbide bending plate,cutting wear parts,Square Dome Shaped Pipe
JIANGSU WELLDAM WEAR-RESISTING INDUSTRIAL CO.,LTD , https://www.wedwearplate.com